Traveling with your dog can be fun for both of you, but a few handy tips and a little prep work will make vacation much more fun for both of you. The first step is, of course, finding a pet-friendly place to stay.
Sunset Beach is here to help! We're pet-friendly, located just steps from a private pet-friendly beach on the Chesapeake Bay and equipped with fun amenities like paddlesport rentals, two pools and a dog park. Seriously, a stay at Sunset Beach is as luxurious for your pet as it is for you. Learn more about our pet-friendly amenities.
Even at a super pet-friendly hotel like Sunset Beach there are somethings you need to keep in mind when traveling with your pet. Here are some tips that we hope will make your stay a little smoother:
Before You Leave
Lay the groundwork for a good trip by making sure you're prepared before you even leave home.
Brush Up
Before you leave home think long and hard about whether your pup is really ready to travel. Make sure they are fully housebroken and brush up on their obedience skills before you hit the road.
Pack Your Documentation
Don't forget to pack your dog's rabies vaccination records and make sure they have ID tags with your address and phone number on them. At Sunset Beach Hotel you'll need to present both at check-in.
Bring Water
Switching water sources can upset your dog's stomach. Bring bottled water with you to make sure your pup stays comfortable.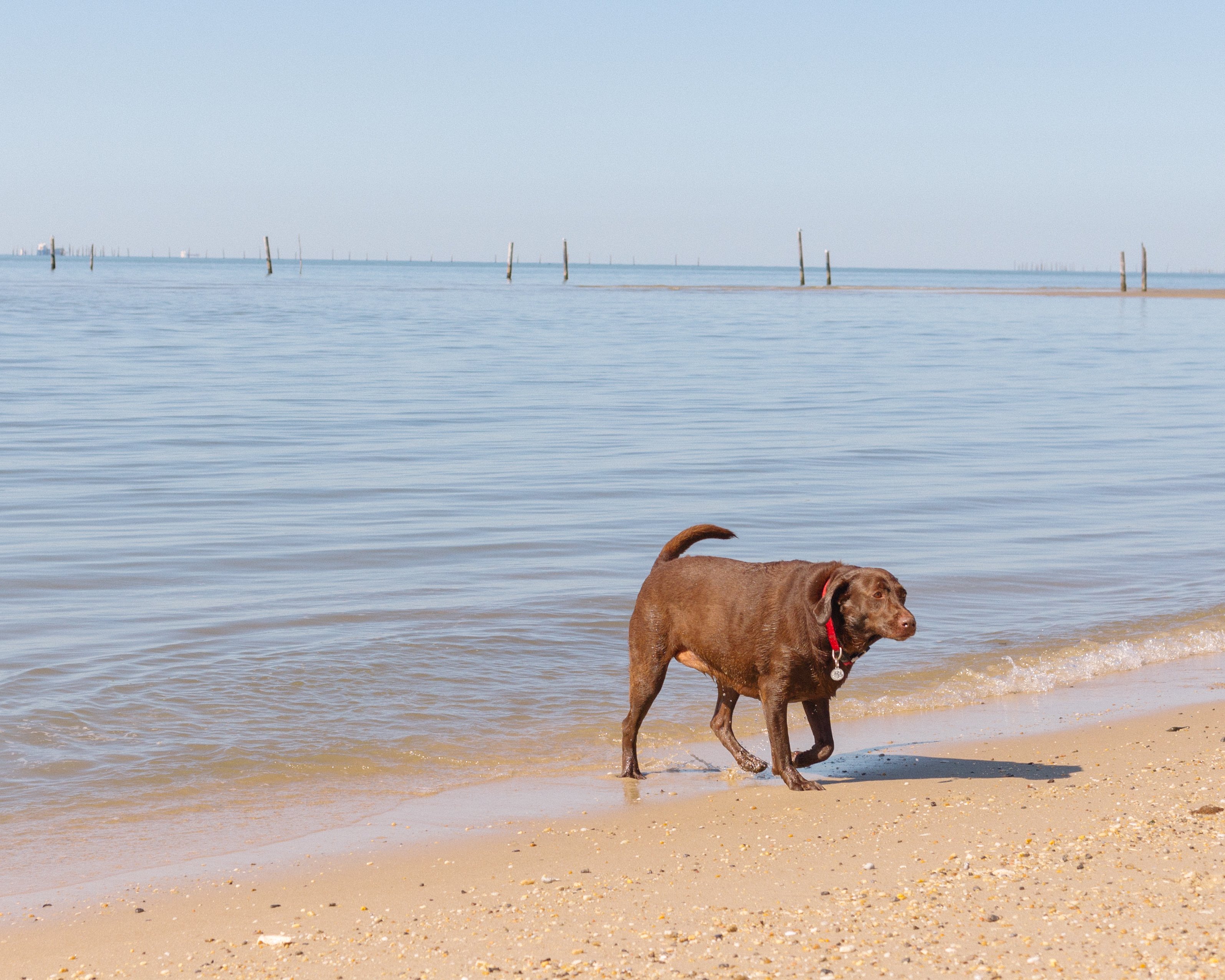 Getting There
Travelling can be stressful for your pup so keep these tips in mind before you hit the road:
Give Your Pooch a Place to Settle
Whether you choose to travel with your fur baby in their crate or you toss their bed in the back seat, giving your dog a familiar place to settle can help them feel at home in the car.
Calm Them
If your dog is a particularly nervous traveler, try giving them a homeopathic calming remedy. You'll find everything from drops to treats and sprays that promise to relieve your dog's anxiety.
Take Breaks
During long car rides, it's always nice to take a break and stretch your legs. If you're traveling very far give your dog the same chance. Let them walk around, take a bathroom break and get a little water before you hit the road again.
After You Arrive
Once you get to Sunset Beach Hotel, there are a few easy things you can do to help your dog settle in and enjoy their stay.
Set up Their Space
Create a space in your hotel room for your dog, just like you do at home. Put out their water and food bowls, lay out their bed and make a place for their toys. This will give your pup a place to settle.
Let Them Settle in
It might be tempting to toss your stuff in your room and start exploring with your pup, but if you give your dog a chance to get used to the new smells and noises in your room, they'll likely settle down more easily when you want to kick back at the hotel.
Pick up Something Special
A new toy or a delicious chew is a big deal to a dog. Stop by the hotel gift shop and pick up something special for your pupper. Having something new and exciting will help distract your pet from barking or being anxious.
Give the Front Desk Your Phone Number
If you plan to leave the resort without your pup, make sure the staff has your phone number. That way if something goes wrong or your pooch is barking and disturbing other guests someone onsite can reach you.
Keep These Policies in Mind
Here are a few guidelines you'll need to follow when you and your pet are staying at Sunset Beach:
- A maximum of two pets are allowed per room
- Dogs must be on a leash when not in a room
- Dogs may not be left outside unattended at any time
- You must clean up after your pet
- Your dog has to wear an ID tag
With a little prep work and some planning your stay with your pup at Sunset Beach Hotel will be a vacation for both of you.
You May Also Like:
Why Mid-Week Vacations are the Best