Sunset Beach Hotel is right on the Chesapeake Bay with a private beach and easy access to fun on the water. So naturally there are lots of great opportunities for recreation right here at the hotel and in the surrounding areas.
Here are a few ways to have fun on the water the next time you visit Sunset Beach Hotel.
Onsite Water Sports
Kayak, Paddle Board, Water Trike and Water Hammock Rentals
Head down to the private beach an hop in one of our water sport rentals. This is a great way to get some exercise and fresh air without even having to leave the resort.
If you want something more active hop on a kayak or paddle board. Sunset Beach is a great place to paddle. The calm waters are great for newbies and it's easy to just head down to the beach and hop in the water. Plus, you can reward yourself with a cocktail or a snack from The Jackspot when you're done. Now that's what we call motivation.
If you want something a little more laid back hang out in a water hammock or cruise along on a water trike.
Jet Ski Rentals
If you want to get your adrenaline pumping check out our onsite jet ski rentals. You can get your heart pounding and do some sight seeing. See the Chesapeake Bay Bridge-Tunnel up close, cruise by abandoned concrete ships at Kiptopeke State Park and don't be surprised if you spot dolphins.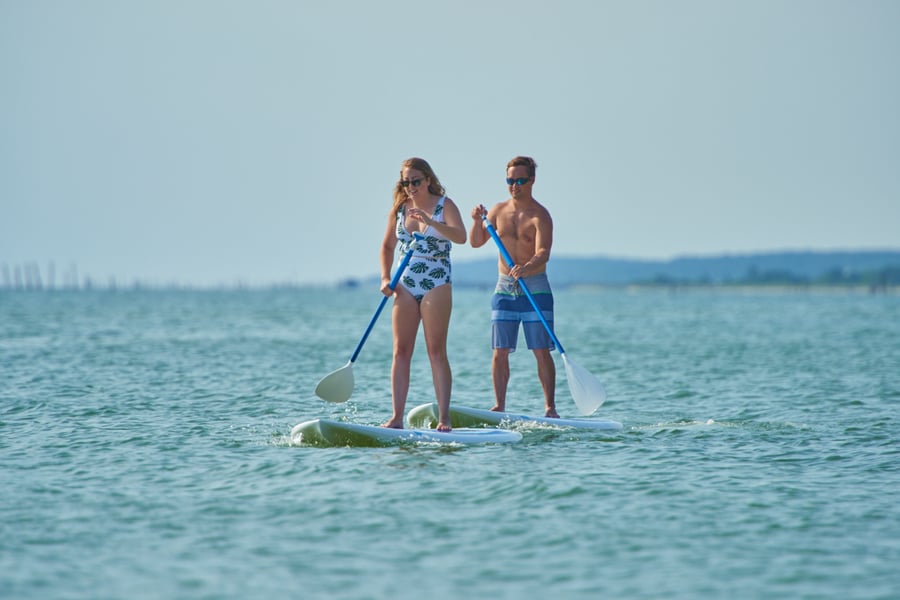 Paddling Spots Near By
If you pack your own kayak, paddle board or canoe there are some great spots you can explore near Sunset Beach Hotel.
Eastern Shore National Wildlife Refuge
Launch from the public boat ramp at this beautiful park and you're within reach of Virginia's barrier islands, which make up the longest stretch of undeveloped coastline on the Eastern Seaboard. If you want to head to the barrier islands then study up or you can just paddle through the marshes of the national wildlife refuge.
You can rent a kayak at this Chesapeake Bay-side park or bring your own. Start your paddle from either the kayak launch or the southern portion of the park's beach. Paddle around the calm waters of the Chesapeake bay or get an up close looks at the abandoned concrete ships that lie just offshore.
Cape Charles
If you want to paddle in Cape Charles you have options. You can launch from the boat ramp at the town harbor or paddle out from the beach front, which can be accessed along Bay Avenue. You can paddle south along the greens of Bay Creek Resort and Golf Club or cruise along the beachfront and wind in and out of nearby creeks.
Oyster Harbor
Take a drive over to the seaside town of Oyster and you can launch from the town's boat ramp. This is another great spot if you want to access the barrier islands.
Take a Guided Kayak Tour
If you want a local perspective on history, ecology or folklore with your paddling then hire a guide to help you navigate waterways and learn a little something along the way.
Southeast Expeditions offers lots of fun tours, including a paddle that will take you to a local winery and an excursion where you can dig your own clams. Southeast also rents kayaks in Cape Charles.
The Burnham Guides offer a huge variety of kayak trips on both the Chesapeake Bay and around Virginia's barrier islands. If you want to tackle a longer paddle they're the guides to call.
Book a stay at Sunset Beach Hotel so you can check out all of these great spots for water sports.